Tracklist:

Producer: Mujahid Abdul Wahab/ Chachaq/ Dato' Siti Nurhaliza
Recorded: Oct 2012
Released: Jan 11, 2013
Label: SNP/ Universal

Additional Info: Galau is the first song recorded by Dato' Siti Nurhaliza after she signed a recording deal with Universal Music. Being release as promotional single, Galau didn't make it to final tracklist of her upcoming release then full studio album Fragmen.
Powered by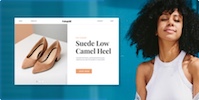 Create your own unique website with customizable templates.